Adult SEO Case Study – Suzanne's Escorts

Freelance SEO Essex began working with Suzanne's escorts back in May 2014. When we took on the campaign, the domain was brand new and we were starting the link building work from scratch.
Goal
The goal of the campaign was to ensure that the website was ranking for a wide variety of localised search terms. We needed to achieve strong exposure for the site at county level (Kent, London and Essex) and at area level (Bromley, Dartford, London City Airport etc).
Strategy
Initially, we carried out a site-wide review in order to identify any design or coding errors that could be hindering Suzanne's progress in search. We then worked to optimise the pages that Suzanne's wanted to target. We revised the content, headers and meta data on the homepage and each of the area pages, ensuring that keyword placement within the copy was more pronounced but also remained natural-looking.
After extensive research into Suzanne's main competitors in organic search, we set about arranging a wide variety of backlinks. We have since worked with a number of well-visited online directories and escort review sites and generated excellent links and referrals from these sources, but much of the link building strategy has been content-based. Freelance SEO Essex writes several high quality guest blogs per month on behalf of the agency, then publishes them on other authoritative adult-themed websites in return for a contextual backlink. We also write one article per month for the site in order to keep the blog updated and provide new, interesting and relevant material for clients.
Freelance SEO Essex reports on the website's progress on a monthly basis, and arranges quarterly face-to-face meetings with the company owner.
Results
As shown by the graph below, which is taken from SEO scraping tool SEMRush, the site's traffic has increased a significant amount since the start of the campaign a year ago.

Suzanne's Escorts is dominating search for all variations of targeted 'Kent' search terms: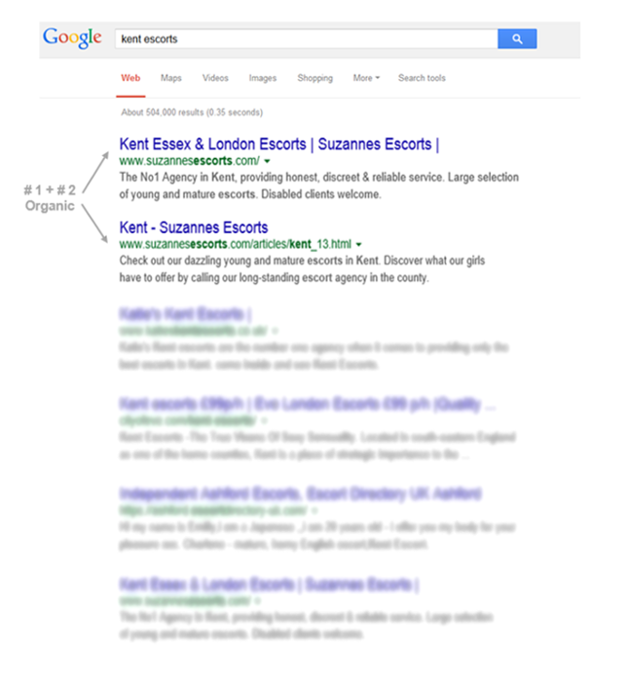 Here are some examples of the site's current organic positions, and the corresponding UK monthly search volumes for each keyword:
| Keyword | Position | UK Monthly Searches |
| --- | --- | --- |
| Kent Escorts | 1 + 2 | 4400 |
| Dartford Escorts | 2 | 1300 |
| Escorts Bromley | 2 | 590 |
| Bexley Escorts | 3 | 320 |
| Escorts Orpington | 3 | 170 |
Suzanne's Escorts now ranks for a total of 159 keywords on the first two pages of Google.