Escort Agency SEO Case Study – Page 4 to 1 in 4 months!
Welcome
Want to know how we took a client's website from page 4 for all major London keywords to page 1 within 4 months – and kept them there? This case study will take you through the exact steps we took to deliver exactly what our client was looking for in one of the most competitive industries in search.
Our Experience
Freelance SEO Essex has worked in the escort industry for over 5 years now and is constantly developing, testing and evolving strategies that enable us to stay ahead of the competition. Providing successful SEO to an escort agency is very difficult, as no websites with any real strength want to openly link to adult-related websites. Most providers will go to directory websites that have no link value and provide poor quality no follow links; they may even buy links from fake porn sites that aren't even indexed.
At Freelance SEO Essex, we have developed reliable strategies that work time and time again. Our escort agency clients currently dominate the search results for the biggest cities in the UK. At the time of writing, we are successfully ranking agencies in London, the Home Counties, Manchester, Liverpool, Birmingham and Glasgow. We even have an escort agency in Barcelona that has been using our services for some time and reaping the benefits (admittedly they translate their own content!).
The Brief – Goal
A well-established escort agency in London contacted Freelance SEO Essex in January 2017. Though their website did occupy some first page positions, they had been continually frustrated by the inability of their previous SEO providers to place them on page 1 for the most competitive London search terms. In addition to lacklustre positions for London, their overall search presence was lacklustre at best. They soon realised that if they were ever going to achieve this they would need to look for a specialist agency with the necessary experience and contacts in the escort industry. We were asked to put together a strategy that would place their website on page 1 for the most competitive London keywords, maintain the rankings they already have, and generate more direct bookings from Google.co.uk.
Research & Preparation – So what did we do?
As with all new escort campaigns, we carried out a thorough assessment of the website in question, focusing on the following 3 areas:
Website structure – we completed our 30-point manual health check, which reviews all the ranking factors that influence search results
Search Console review
Website content review – we carried out a thorough analysis of all content on the website, including its meta data, images and alt tags
Link profile – we paid particular attention to the history and the quality of links that had been built in the past
Research Results – What did we find?
Website Structure
Overall, the website appeared to be very healthy, with lots of the free online checking tools giving it an acceptable score. However, our manual report picked up a few key issues that were causing poor performance. For example, we noticed that the robots.txt file was blocking a vital piece of content that we would really want the search engines to be aware of. In addition to this, we noticed the that the XML or HTML sitemaps had not been updated in over a year, which meant there were vital areas pages that hadn't been submitted via search Search Console. Other simple fixes needed to be made to improve the user experience, such as customising the 404 error pages and removing some unnecessary 301 redirects.
Search Console Review
When carrying out a review of the Search Console account, we realised that there had been very little optimisation applied here. The target location was set to the US default, despite Google.co.uk being the target search engine. It was also here that we noticed the sitemap hadn't been updated, as the number of pages submitted and the number of pages were far less than what we knew them to be.
Website Content Review
There were lots of obvious issues that we picked up when carrying out this part of the review. For example, the content had clearly been written by a non-English native and grammatically it was shocking. Meta data was duplicated across the site, and we also noticed that there were two H1 tags on the most important pages and these had been over optimised in the form of keyword stuffing.
We also picked up a very old SEO trick that has long been frowned upon by Google – hidden text, packed full of keywords and placed in the same colour of the background! Did their last agency think it was still 2005?
Link Profile
Initially, we decided to export the link profiles of EVERY website on page 1 of Google for the keyword "London escorts" and compare them to our client's link profile. Interestingly, the domain metrics looked similar and the number of linking domains and links in general were also similar. In some cases, our client's website had more links than those who were already ranking on page 1.
On delving deeper, however, we noticed that lots of the links were image links that had a "no follow" attribute. This meant they were passing no link value to the client's website. When we compared the number of "do follow" links to those of the other agencies on page 1, they had almost 45% less links than most. In addition to this, a lot of these links were not niche-relevant, or were from low quality websites and directories that were just offering links in return for banners in the footer. While we know it isn't just a numbers game when it comes to links, quality was certainly an issue here.
Strategy
After our initial research, a detailed plan of action was put together. This outlined all the fixes that were identified and placed them in priority order, along with a strict timeline of when the fixes would be implemented.
Step 1:
We completed optimisation of the Search Console account. This included the setting of the correct target location and the rebuild/submission of a new, up-to-date XML sitemap. This work was completed within the first 48 hours of the campaign.
Step 2:
All onsite fixes were completed. This included a thorough review and rewrite of a large majority of the content, along with the removal of the hidden keywords. In addition to this, we addressed the meta data and headers, and started to work on the alt tags across hundreds of images. Once the client had approved all our amendments, the work was uploaded and completed within 10 days. Already we were starting to see improvements in rankings as the content was being re-indexed (with the odd fluctuation, of course).
Step 3:
Next, it was time to focus on the link building strategy. From day one we started arranging publications and links on the top adult websites in the UK. We put together a detailed anchor text strategy to make sure that links were not over-optimised and that all link building appeared natural. We also used our own database of escort-relevant websites that we know deliver the required boost to rankings, and removed the links we believed to be toxic.
Step 4: (Ongoing)
The site's internal URLs constantly benefit from ongoing optimisation. The content and meta data on various pages – including regionally-targeted pages and girls' profiles – is regularly reviewed and optimised for maximum results.
From an offsite perspective, our link building strategy is heavily influenced by our anchor text strategy and our analysis of competitor activity. The backlink profiles of other local escort agency websites are reviewed periodically with a view to spotting new link opportunities for the client.
Our consultants regularly report on progress and are always on hand to discuss different elements of the campaign. They also adjust the search strategy according to recent Google updates and best practice guidelines. We continue to enjoy an excellent relationship with the client and the staff at the agency have been particularly impressed with the transparency of our approach.
Results
Below is a screenshot from our internal ranking software for the keyword [London escorts] (74,000 monthly searches):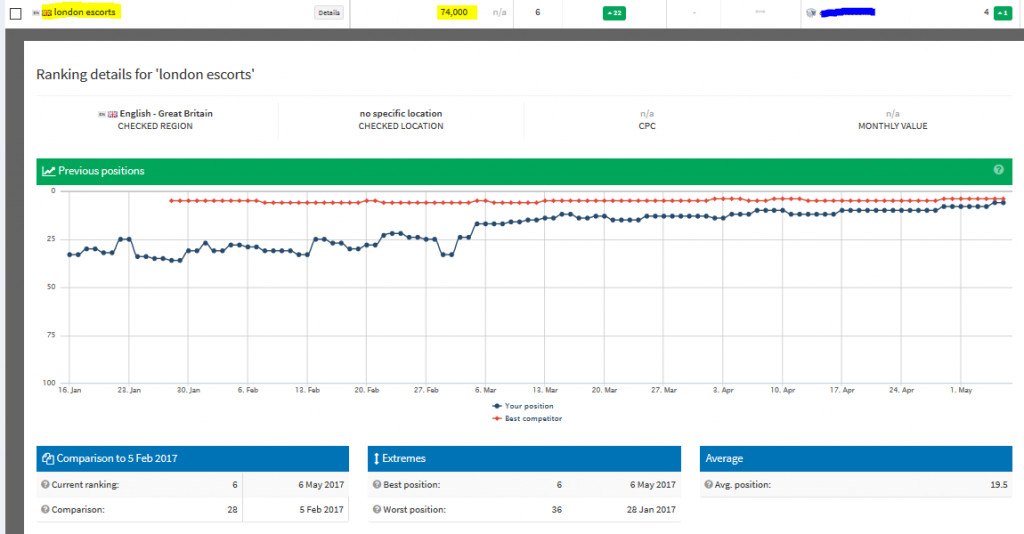 Below is a screenshot, taken from monitoring tool SEMRush, which shows the movement we generated for this particular London escort agency website after working on the campaign for just two months.

As a result of our work, the agency has achieved the top 5 positions (mainly top 3) in organic search for:
| Keyword | Search Volume |
| --- | --- |
| London Escorts | 74,000 Monthly searches |
| London Escort | 22,200 |
| Escorts London | 22,000 |
| Escorts In London | 14,800 |
| Escort agency London | 2400 |
| Escort agency in London | 590 |
| London escort agency | 4400 |
| London escort agencies | 4400 |
Overall, the domain is also ranking for over 1,500 keyword variations. The London-based agency is generating first-page exposure from a mixture of localised and broader key phrases and has enjoyed a significant increase in daily bookings as a result.
---
Get in Touch
Call us on 01245 477449, or fill out our contact form here and we'll get back to you within 24 hours.