Everything You Need To Know About The Pirate Update
Introducing you to Google's latest Pirate update (yes, another one!)
Google have been busy bees…
It seems that the techies at Google's headquarters are keeping extremely busy recently – it's been update galore! First we had the big Panda update sprung upon us in September, then the long-awaited (but certainly not missed) Penguin 3.0 made an appearance at the beginning of October. Now it's the turn of the new and improved Pirate update to shake up the SERPs.
The Original Pirate
Originally introduced in August 2012, Pirate was designed to prevent websites from ranking well if Google's DMCA system had filed copyright infringement reports against them. This update came as a result of criticism that Google didn't play a big enough part in the fight against piracy. Since then, Google seems to have neglected the Pirate update, leaving offenders that were caught in the first line of pirate fire penalized and letting new offenders off scot-free!
The latest Pirate re-run will catch all the new piracy sites that have been running around freely in the last two years and hopefully release sites that were previously badly hit by the update (but only if they took it upon themselves to clean up their act).
Changing the Ad Layout
Google has implemented a new ad layout when a search term is detected to be related to someone that may be attempting to watch or download movies illegally. When searching using keywords such as 'Watch Breaking Bad', the first organic listing will most often be the site where the content originated from, like AMC, in place of torrent site.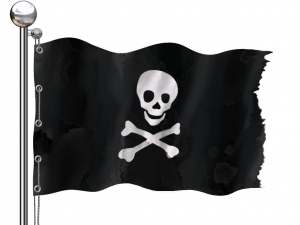 Fewer Search Suggestions
Google's final bid to prove that its takes piracy extremely seriously and are committed to fighting it involves the search box. Google has revealed that there will be fewer autocomplete suggestions when users type something in the search box. If a certain search term produces many sites that have had reports filed against them for copyright infringement, then Google will not offer as many search options at all.
The Overview
The Pirate update is nothing for the average webmaster to worry about, as it's designed to specifically target sites that allow users to illegally download and stream content. This may be a slight inconvenience for users who want to quickly access the latest episode of their favourite show, but nothing more than that. The truth is that because Google has left it so long to rerun Pirate, most users have already discovered the best sites that offer this service and are more than happy to visit them directly.
Still, the main reason behind Google's rerun of Pirate is to shutdown anyone who believes that Google isn't doing enough to prevent users from downloaded and watching illegal content. So, Pirate has had the desired effect in Google's eyes, and has just created a mild inconvenience from the user's perspective.
Read more: Introduction To Google's Latest Update Penguin 3.0 »