Freelance SEO Essex Is Now The Associate Sponsor Of The Very First Essex Digital Awards!
This week we're very pleased to announce our involvement in the very first Essex Digital Awards!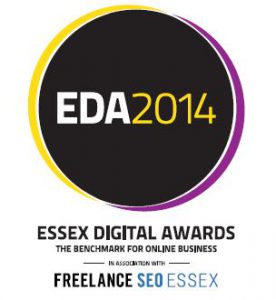 The EDAs is a brand new initiative designed to praise companies in the county that are embracing digital trends and using the latest design and development technology to drive their business forward. FSE will be supporting the Awards as an Associate Sponsor and will be working closely with organisers to raise awareness of the scheme.
So what drew us to such a great opportunity in the first place?
Well, first of all, the EDAs is the first and only digital awards scheme to target Essex firms. As fierce supporters of the local business community, we wanted to be a part of a fresh and exciting campaign that not only celebrates local digital talent but also highlights the impact that companies in Essex are having on the online economy on a national scale.
We were also impressed by the fact that a number of high profile industry experts have signed up to help judge the entries. There are some seriously famous faces on the panel: Robin Bailey, founder of Capricorn Media and a prominent journalist and broadcaster for 32 years; Tim Brown, director at Sky Sports; Joe Davis, director at Total Digital; Warul Islam, International Marketing Manager at Universal Music Group; the list goes on! Best of all, the judging process is 100% fair and unbiased – none of the judges, sponsors or organisers are able to enter the Awards, and each entry is assessed over a period of time to make sure no judge is able to influence the decision of another.
Keep an eye on our blog for more news and information in the run-up to the Awards ceremony, which will be taking place at Colchester United Football Stadium on 24th April. Tickets to the event will be available nearer the time.
How to apply
Want to enter? Head on over to the website, choose your category and leave your details – the whole process takes just two minutes and it's completely free! The closing date is 26th February, so you still have just under a month to get involved. The Latest News section also hosts some insightful and inspiring interviews with some of the judges and a number of other prominent figures in the digital arena.
Read more: A Short Guide To Google's Penguin Update »