Freelance SEO Essex Meets Outstanding Local Businesses At The EDA18 Networking Event
If you've been following our brand for a while now, you'll know that we have been fierce supporters of the Essex Digital Awards (EDAs) since the concept was first launched way back in 2013.
This year, we're proud to announce that we've taken our involvement one step further, and we are now listed as the Headline Sponsor for the event. It's a big move for us, but we're over the moon to be the 'face' of what has now become the biggest awards scheme in the whole of Essex!
But that's not all. In response to earlier feedback – originally from our director Danny Hall! – the organisers of the EDAs decided to add extra value to the initiative for their sponsors in 2018 by arranging an open networking event at Chelmsford Cricket Club on Tuesday 17th April.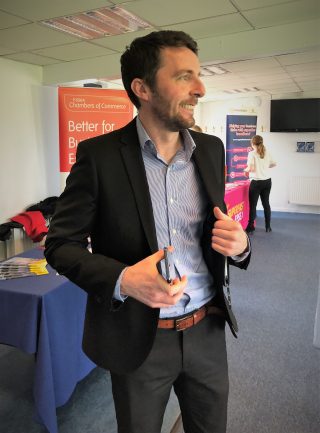 Looking out onto the bright, beautiful backdrop of the county's famous cricket pitch, Freelance SEO Essex mingled with representatives from many other prominent local businesses at the club's Premier Suite between 2-4pm. The afternoon meet-up was open to anyone, but every category sponsor was on hand to showcase their products or services with their own exhibition-style stand.
EDA18 organiser Iain Johnson provided the 80-strong crowd with a brief introduction, then Danny took to the podium to explain a little more about what's on offer from FSE, and why he still believes the scheme is a fantastic fit for our agency.
The audience were also treated to brief speeches from fellow sponsors Nimbus Hosting, Essex Chambers of Commerce, the Essex County Council Apprenticeship Hub, Superfast Essex, Barclays and Sean Purcell, otherwise known as the Millennials Coach. Attendees were then free to network for the remainder of the event.
Backed by an interactive stand, and offering free branded cupcakes courtesy of Eat My Logo, Danny and our SEO Account Manager Matt talked with a number of local business men and women who were actively searching for SEO and wider digital marketing solutions from a local provider. They also gained a better understanding of the businesses involved in the EDA18 and established strong connections that are bound to lead to further business development opportunities further down the line.
As far as we are concerned, the event was a great success, and we'd like to thank Iain and Andy once again for enabling us to get to know our fellow sponsors prior to the main event.
The EDA18 awards ceremony will be taking place on 3rd May at Hylands House – and we can't wait to see who's going to go away with all of those coveted Gold awards! We know from experience that these events never disappoint; from the moment we arrive for the reception, we can feel the excitement in the air, and – quite rightly – we always get the sense that everybody is revelling in the chance to celebrate their digital achievements.
Best of luck to all of the finalists, and if you're going to be there on the night, do pop over to our table for a chat!
Read more: Mobile First Indexing Is Here »