Happy 10th Birthday Google Analytics!
Google Analytics is Now 10 Years Old
As we celebrate Google Analytics' 10th birthday this November, we look back on its evolution, and how SMEs still have much to benefit from it.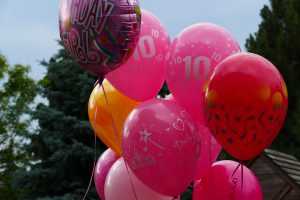 The growth of Google Analytics
Before Google acquired this service, it was known as Urchin on Demand, and was owned by the Urchin Software Corp until April 2005. In 2012, Google introduced Universal Analytics, which enabled more versatile website monitoring and more advanced data tracking with multiple devices.
Today, Google Analytics is featured on around 30 million websites, and approximately two thirds of the 10,000 most popular websites in the world, which means it's the leading provider of website statistics. The best thing of all is that it's free, which means you can gain tremendous insight into your business's online performance without having to spend a penny.
How it can help SMEs:
Find out where you're popular
You can discover which pages on your websites are getting the most views, and which are generating the best conversion rate (converting to sales of your products and services). Analyse which content is giving you the best sales, and identify where improvements need to be made. For example, perhaps your website needs more traffic from other websites, such as social media outlets, or maybe some of your pages are receiving fewer views because your visitors are having difficulty finding them.
Where are your visitors coming from?
Google Analytics enables you to understand your visitor segmentation – how many new visitors can be attributed to an SEO campaign, their place of origin, and how many times they visit your website. You can also find out which pages receive the most clicks, and whether your visitors' browsing behaviour is synonymous with your content strategy. In fact, you can even see how much time visitors spend on a page, which will help you to identify whether the content is useful or not. For example, if you found out your visitors only spent an average of 6 seconds on a page containing 400 words of content, you might want to consider some changes.
SEO and content strategy
Once you've found where your website traffic is coming from on your most viewed pages, what's generating sales, and what isn't selling, you can customise your content strategy. That means eliminating your weaknesses – removing the elements that aren't improving your conversion rate and maximising sales.
Does your content answer your customers' questions? Is it easy to read on your mobile platform? Are there any particular words or phrases that you think your target market might not be identifying with? All of this can have a big impact on how your audience perceives your products and services, and should be central to your content strategy.
Latest changes
In the spring of 2015, Google introduced a number of modifications to Google Analytics, which included the introduction of a 'Query Word Count' dimension, whereby advertisers can monitor search queries based on the number of words in the query. Google also introduced a Trash Can to enable business owners to retrace items that have been accidentally deleted, and a Cohort Analysis Reporting tool to allow businesses to analyse purchaser behaviour on a daily, weekly or monthly basis. If you're still unsure about Google Analytics and what it could do for your business, you can always talk to the experts.
Read more: What is Google RankBrain? »