What Was the June 25 Google Update?
Update Rated 9.5 is Among Most Significant Seen This Year
Google issues updates every day, but according to commentators in the SEO world, the one that took place on 25 June was something a little out of the ordinary in that it appears to have had a dramatic impact on ranking positions.
At Freelance SEO Essex we soon spotted that the update received a ranking of 9.5 on the SEMrush sensitivity sensor, which is far higher than anything else SEMrush has tracked this year – routine updates typically rank between five and seven. MozCast also recorded a high temperature: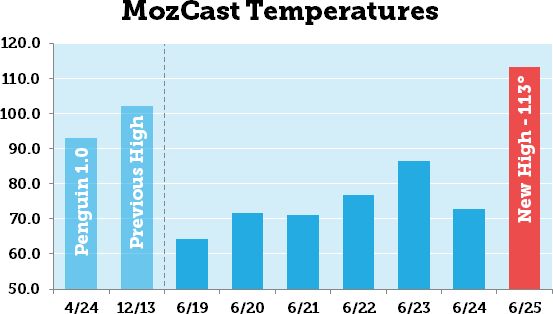 Not over yet
Some commentators believe that this was just the start of a significant update, and it is still in the process of rolling out. This means that we have probably not seen the full effect as yet.
Google, was, as ever tight lipped on the subject. When asked whether there had been an update, Google WebMaster Trends Analyst John Mueller tweeted the stock answer that they make updates all the time, a response that was received with the expected derision and comments along the lines that he could get the phrase tattooed to his forehead.
Who is affected?
Data is still flowing in, and analysis is ongoing, but at this stage, reports from RankRanger suggest that the algorithm update primarily affected sites that were ranking around positions six to ten on Google searches.
The analysis was also broken down according to niche. While every sector saw some fluctuations, the hardest hit appeared to be the food & beverage industry, followed by websites in the health and fitness, retail, gambling and travel sectors.
Why so quiet?
For what looks like the most significant Google update of 2017 so far, there has been a distinct lack of chatter and media coverage. This is possibly because, as mentioned earlier, there has been little impact on the top ranked sites, with all the action in positions six to ten.
However, the extensive fluctuations in these lower ranking positions is still big news for thousands of sites.
What to do
If you have been affected, the most important thing to realise is that Google updates happen all the time, so the question is as much about what you should do to weather the storm of Google updates and make them into a positive experience.
A useful experiment is to take a look at your historic ranking data on Google Analytics. Chances are, if you've been hit by one Google update, you will have been hit by another, so check for past fluctuations and see if they correspond with previous updates. This could give valuable clues as to what it is about your site that is causing the problem.
Ultimately, it all comes down to good SEO. If you have a site with plenty of interesting, original, relevant content that is constantly updated, if you have the right links to other reputable and relevant sites, and if you leverage your social media channels properly and get content shared and retweeted, Google will be your friend.
And that means, the next Google update will spell good news for your rankings compared the competition.
Read more: How Will The £2.1bn Google Shopping Penalty Affect Your Business? »