Adwords Is Adding Ads Automatically – Don't Let It Ruin Your Business
Everything You Need To Know About Google Adwords' Ad Suggestions Feature
Back in August 2017, there was talk amongst the paid search community of a new Google AdWords beta that suggested new ad copy for campaigns. Google was – and still is – injecting Expanded Text Ads into your account, based on the information it deems to be relevant to the product or service you're offering.
These ads are labelled 'Ads Added by AdWords' within your account, so they are easy to spot next to the ads you have already created.
Account managers were receiving pre-emptive emails explaining the pilot and its implications. Here's a copy of the message so you know what to expect if you're chosen to take part in the roll-out:
"Dear AdWords Advertiser,
You've been invited to participate in a pilot program for AdWords that is designed to improve campaign performance by creating new variations of your existing ads within your ad groups. You're receiving this message because your account contains at least one campaign that's optimizing ads for clicks or conversions. These campaigns may also contain ad groups with fewer ads than is recommended by AdWords best practices.
What's changing
Starting February 9, 2017, you may see new ads in some ad groups with the label "Added by AdWords." These ads will be created based on information you've provided in your existing ads, such as your headlines, description, ad extensions, or information found on your ads' landing page. New ads will only be added to each ad group once.
Next steps
You do not need to take any action to participate in the program. Starting February 9, 2017, please monitor clicks and spend going to these new ads. You can edit, pause, or remove them at any point, however we recommend waiting until they have enough impressions to give you confidence in the results. Because you've chosen to optimize your ads for clicks or conversions, AdWords will automatically optimize these ads to meet your business goals.
You can learn more about ads "Added by AdWords" in the AdWords Help Center. If you'd like to opt out of this pilot program, please complete this form.*"
What does this mean for my PPC campaign?
In a nutshell, if you are selected for the pilot, Google is going to run with its automatically created ads by default. Account users who have been chosen to take part in the programme will need to opt-out of this setting if they want to make sure their original ads are still being displayed, otherwise Google will start running their own ads after 14 days.
Ads can be paused or deleted altogether, but they will not appear in draft form before they are released – they'll be set live with or without your approval.
Some marketers can see the benefits of this new feature. For example, if you're happy with what Google has produced, their copy recommendations could simultaneously save you time and boost your conversions. However, others (including the team here at FSE) have concerns that automatically generated ads may not contain content that is a true reflection of what is on offer. Inaccurate or inappropriate ad copy could cause a great deal of damage to an AdWords campaign that was previously performing very well. Plus, some advertisers have very specific copy requirements, while others need to make sure that their content adheres to industry guidelines or standards; Google has no way of knowing the intricate requirements of every business who is choosing to advertise via paid search, so even with the best intentions, it could get it very, very wrong.
Why has Google introduced this new feature?
Google's reasoning is that adding more ad variations within an ad group could lead to a 5 – 15% improvement in performance. The feature is designed to help accounts that have minimal ads per group, or ad rotation settings of either 'Optimise for clicks' or 'Optimise for conversions'.
Google has assured us that the ads are currently being written by humans, not bots, and we've been told that all of them are going through quality control procedures – so in theory, they should be relevant enough to benefit your campaign.
But what happens if Google scales up the automation process, and machines begin to generate your ad copy for you? Chances are they won't contain your best USPs, or provide an accurate reflection of your service, right? Right. And it's the potential impact that the feature could have on successful, expertly-crafted ad groups that's striking fear into the hearts of AdWords managers and search engine optimisation specialists.
What do I need to do?
If you're concerned about the introduction of Ads Added by AdWords, the best thing to do is monitor your account closely. Be sure to keep an eye out for any correspondence from Google, too.
This handy script from Impression.co.uk will send you an alert if you're worried you might miss the 'welcome' email that tells you that they are planning to roll out the pilot to your account. (Please note that this script won't work with MCC level accounts).
If you're chosen for the pilot, and you're happy to trial Google's automated ads, you don't need to do anything apart from monitor your ad performance to see if they have a positive or negative impact on your conversions. It really depends how much control you want to have over your output.
If you want to opt out of ad creations completely, head to Settings > Account Settings > Ad Suggestions in the beta version of AdWords, as illustrated here: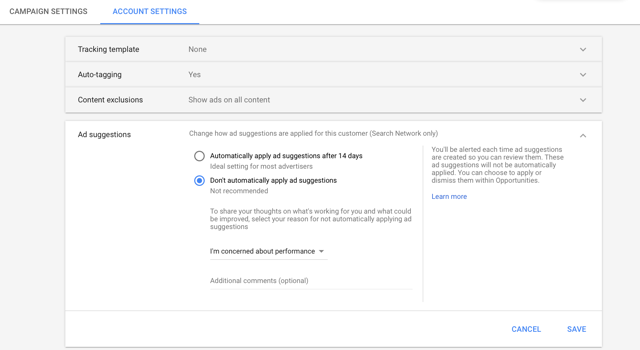 And if you need any help structuring, writing or managing your ads, you can always contact our PPC specialists for expert advice.
Read more: Google AdWords Advertisers Enjoy More Up To Date Auction Insights »