Why PPC is Worth the Investment
How it Could Work for Your Business 
PPC is really popular with clients at Freelance SEO Essex, and it's easy to see why. Here's everything you need to know! 
One of the most effective kinds of digital marketing. PPC is a really valuable tool for any business. Here's why it's well worth the investment, and how we, as a leading PPC agency in Essex, can help you.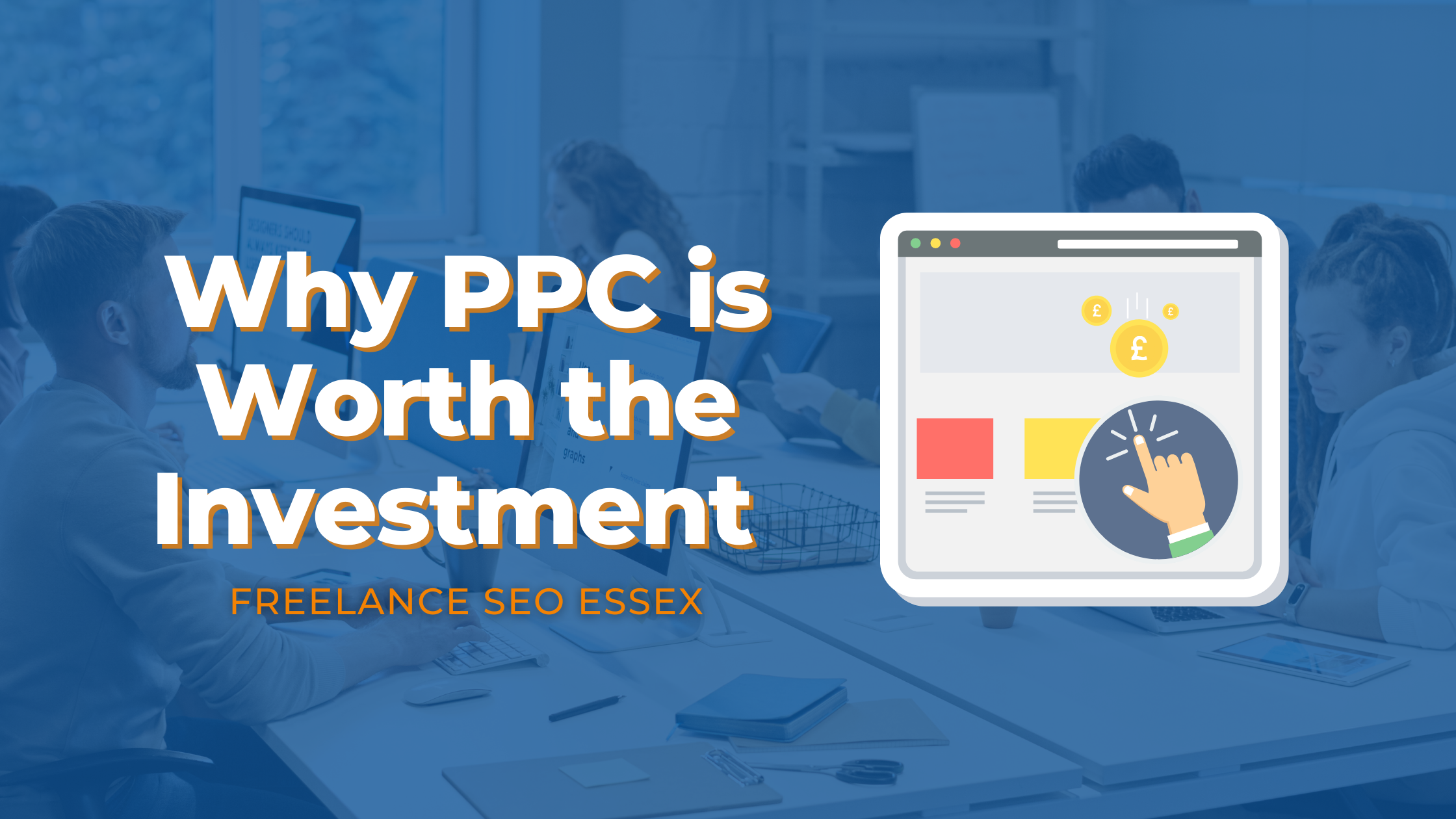 What is PPC?
First of all, what is PPC? If you're new to digital marketing, it may not be a term that you have heard before. Well, PPC stands for Pay-Per-Click, and it is a form of advertising online that has a number of benefits for business owners. There are three kinds of PPC ads: 
Search ads:

These look like search results, and are displayed on platforms like Google and Bing.

 

Display ads:

These are graphic or banner ads that are displayed on 3

rd

party partner websites.

 

Social-media paid ads:

These work like display ads, and appear on your chosen social media platform.

 
How does PPC work? Well, to put it simply, every time someone clicks on an ad, the publisher pays a fee. 
Fast results
One of the reasons why PPC is so popular is that it gives very quick results. As soon as your ad goes live, you may notice a difference. This makes PPC perfect for companies who want to generate results fast, or take advantage of a business opportunity with a small window. This could be a seasonal sale, public holiday, or a product launch. Other digital marketing methods that focus on longer-term growth, such as SEO, can be used in conjunction with PPC to great effect. 
Suitable for all budgets
Don't have a huge marketing budget to work with? PPC could be the perfect option for your business. Pay-per-click advertising is built entirely around the limitations of your budget, and gives a much greater amount of control over spending than other paid advertising methods. Plus, with most kinds of search engine PPC, you only pay for the clicks. There's no minimum ad budget or high fees that pose barrier to entry either, making it something that is suitable for all kinds of businesses. 
A tailored strategy
PPC can be tailored to suit the needs of a wide range of businesses. You can target specific demographics, allowing you to reach the people that will be the most interested in what you have to offer. You can also choose which days, which locations, and for which search queries your ads are shown. You can also say which search queries you don't want them to appear from, giving you a really great amount of control. 
We're here to help
If you are going to get the most from a PPC campaign, you'll want to work with an experienced specialist in the field. Here at Freelance SEO Essex, we have worked with small to medium-sized businesses looking for a cost-effective and fast alternative to search engine optimisation. No matter what industry you are providing products or services in, our team will be able to get your account set up and then provide expert management every step of the way. 
Find out more today
Want to find out more? Get in touch with us, and a member of our team will give you all the information that you need.
Read more: Google rolls out the May 2022 core update »