Everything you need to know about on-page and off-page SEO
SEO is no longer just about adding keywords or having a website; it is a combination of tactics on the page and off the page that come together to promote your company in the best way possible.
At Freelance SEO Essex, our SEO experts have put together a guide to everything you need to know about on-page and off-page SEO.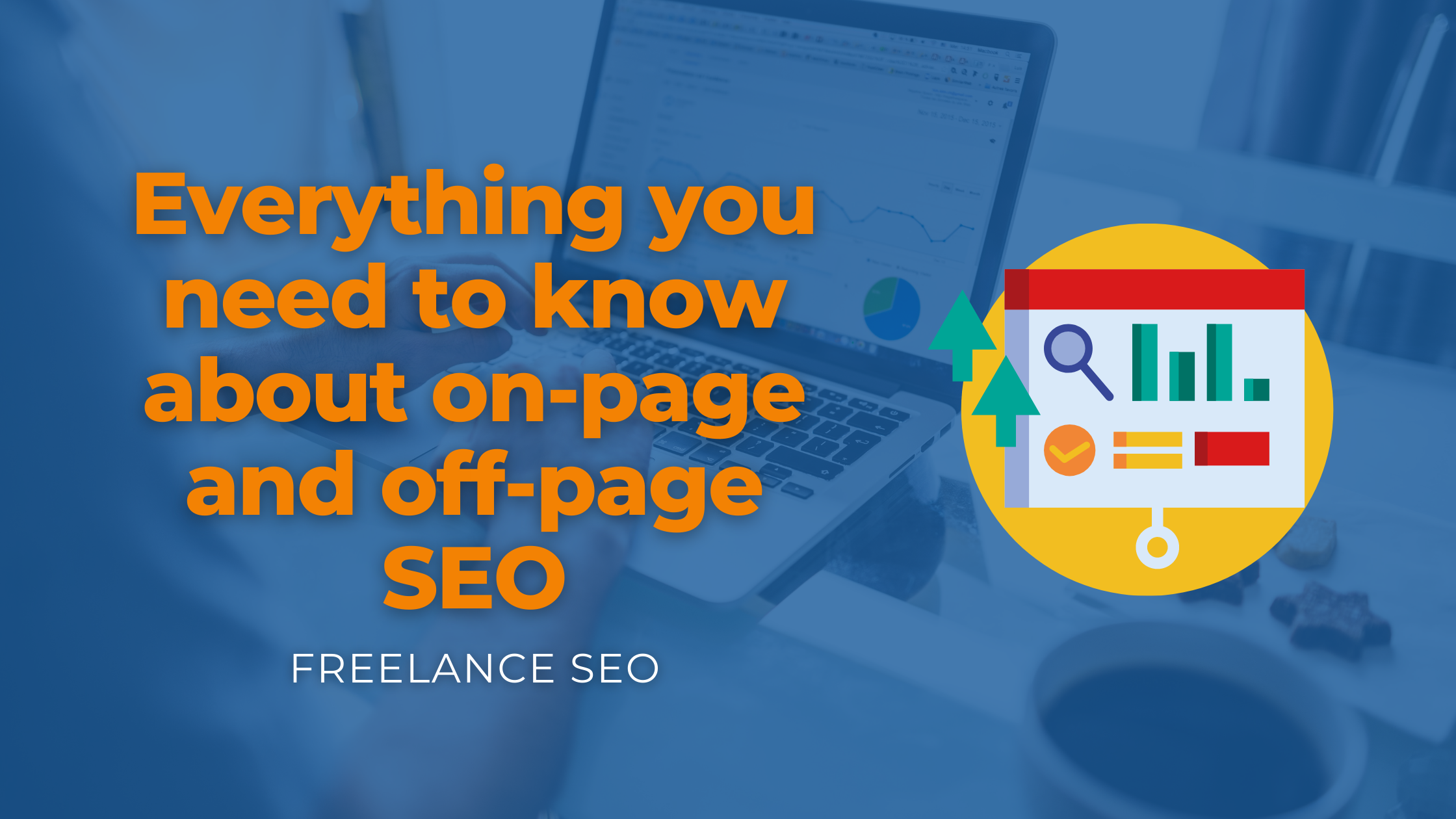 On-page SEO – what is it and how does it work?
On-page SEO is centred around your website and the tactics you can use to boost your searchability online. You need to give the search engine bots information they can crawl to find relevant information that will match a user's search query. You also need to meet Google's search ranking criteria, such as page loading speed and mobile responsiveness. So, let's look at on-page SEO in more detail.
Online content
There's a reason why they say 'content is king' and that's because it is. Make sure it's relevant to your products or services, informative, easy to read, well laid out and optimise.
Keyword optimisation
As important as content is, keyword optimisation is still highly relevant. But when we talk keywords, one or two words are not enough. There is a growing trend for long-tail keywords, or phrases, of four, five or even six words that make up a phrase a user would add in a search query.
Title tags is about naming your web pages which are seen on the main title in search engine results. Keep to no more than 65 characters or you'll lose visibility of the whole title. The meta description sits below your URL and under the headline in your social media posts. Alt text is the keywords/phrases attributed to image/video/audio files – search engines can't read visuals, only text.
Internal links
Add links to other pages on your website but make sure they are relevant, or the bots will dismiss the link.
This is the path that shows each step of a user's search journey, and helps the search bots understand the structure of your website. A user will easily know where they are but make sure each step is active and can take a user back as well.
Page loading speed
One of Google's 'hot' search criteria, as well as being vitally important to users, is how quickly your web pages load. If they take too long or any images/videos don't render correctly on any device, up goes your bounce rate.
Mobile-friendly
With an ever-increasing use of mobile devices to search the internet, your website must be optimised to appear the same, and deliver the same functionality, on a mobile device as it does on a desktop.
Off-page SEO – what is it and how does it work?
Off-page SEO is about your activity off your website pages, but they are equally as important. Google ranks you based on your off-page SEO as much as on-page. So, let's look at off-page SEO in more detail.
Backlinking
As well as adding internal links to your website, link your content to other authoritative sites to boost your ranking. Think carefully about the anchor text – choose a relevant keyword/phrase or your brand name.
Local SEO
People search for local companies before national ones so it's important to make sure you have an online directory listing that includes your company details, as well as reviews.
Social media channels
Although Google doesn't use your social pages as part of its ranking criteria, search bots do crawl your social media pages. The posts that receive more clicks will boost traffic to your website.
Guest content
Don't be afraid to do a guest blog, podcast, event or forum. They get your brand out there and online.
Getting on-page and off-page SEO right, and keeping it up-to-date as well as relevant, is hard work and time-consuming, particularly if it's not part of your job description. At Freelance SEO Essex, our SEO experts know what SEO tactics work and which will make a difference in boosting your business up the search engine results, putting you in front of your target audience.
To find out more, please give the team a call on 01245 477449, or email on [email protected]
Read more: March 2022: Social calendar dates for your diary »