FSE Counts Down To This Week's IN KEEPING Exhibition Launch In Chelmsford
February certainly came around quickly and now we're just days away from the launch of Chelmsford's IN KEEPING. This exciting new art exhibition, which is free and open to everyone, will run from 14th – 26th February at the Ale House, a top class venue that's just a stone's throw away from the main station.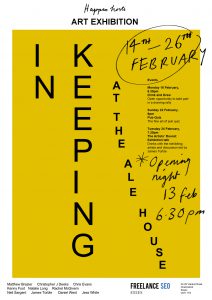 The exhibition, which is sponsored by FSE, will be opening with a bang this Friday 13th February. Organisers Happen Hosts will be on hand from 6.30pm to welcome guests and discuss the work; the crowd will then be treated to a reading from landlord Alex at 9pm, which will be followed by a live set from local folk band Fishclaw at 9.30pm.
Pub-goers will enjoy a mix of drawings, visual and audio from 10 talented up-and-coming artists: Matthew Brazier, Christopher J Deeks, Chris Evans, Kenny Foot, Natalie Long, Rachel McGivern, Neil Sargent, James Torble, Daniel West and Jess White. Happen Hosts have also announced that someone from the collective will be on hand at the venue almost every evening throughout the duration of the exhibition to talk guests through the works.
Happen Hosts are also offering free cockt-ales at the launch event to the first 100 people who sign up to their mailing list. All you need to do is head over to their Tumblr account, click 'Subscribe', then turn up on the night and ask for your free tipple at the bar!
We're confident that this will be the first of many ground-breaking exhibitions from Happen Hosts, which is why we've decided to get behind the idea and put our brand to the event. We hope to see you at the launch party, but if you can't make it, make sure you stop by the Ale House during the next couple of weeks to take a look at some amazing work from some of the county's leading artists.
Happen Hosts are also organising several open events in February that are aimed at getting as many people involved in the initiative as possible. Check out their Facebook page for up-to-date info!
Read more: Google's Link Removal Requests Up 75% From 2013! »