FSE Sponsors The Essex Digital Awards For The Second Year Running!
After a successful inaugural Essex Digital Awards in April, FSE has decided once again to sponsor this innovative scheme, which awards Essex businesses, schools and charities for their online achievements.
The 2015 EDAs
The next Essex Digital Awards is set to be even bigger and better than the last, with the ceremony taking place 23rd April 2015 at Weston Homes Community Stadium in Colchester. Here at FSE, we are so excited to be involved with the EDAs for the second year in a row and can't wait to unearth new talent in 2015.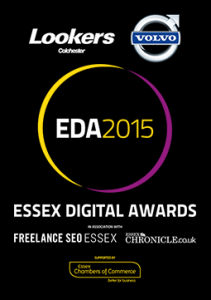 If you think that your organisation has what it takes to grab one of these prestigious awards, the EDAs are on the hunt again for cutting-edge companies, schools and charities that have grabbed the digital world by both horns and are fully utilising the opportunities on offer from the various online platforms that are now available to businesses.
Can I enter?
If your business or organisation is based in Essex, or is relevant to Essex in any way, you are eligible to enter, so what are you waiting for?
Entrants can choose from plenty of categories this year – all aspects of digital are covered, including Best Use of Video for Business, Best Use of Social Media for Business, Best Online Marketing Campaign, Best Mobile App, and a range of Best Website accolades. Entry is completely free and takes no time at all, so head over to the EDAs website and submit your business and you could be in with a chance of winning one of the 3 prizes on offer to finalists in each category – Gold, Silver and Bronze.
How does the judging process work?
A large, diverse panel of professional digital whizzes will all be drawing upon their industry knowledge and expertise to judge the entries on a range of factors. At the end of the process, each judge will produce a scorecard, along with any comments they wish to add. You can start applying right now and entries close at 23:59 on 20 February 2015, so you have loads of time to put together your case!
Keep up to date with the EDAs by following @essexdigiawards on Twitter.
Read more: Google Decides It Will Rank SSL Secure Sites Higher In A Bid To Favour Secure Servers »