How SEO Can Transform Your Business in 2022
Why SEO is More Important Than Ever

 
SEO is important for any business, whether you are just starting out or an established name in your field. 
Wondering if it's worth investing in SEO? Well, organic searches are still the primary source of most website traffic, so a good SEO ranking really is crucial. As the SEO consultants of choice for businesses in Essex and beyond, we're primed to help you transform your business in 2022.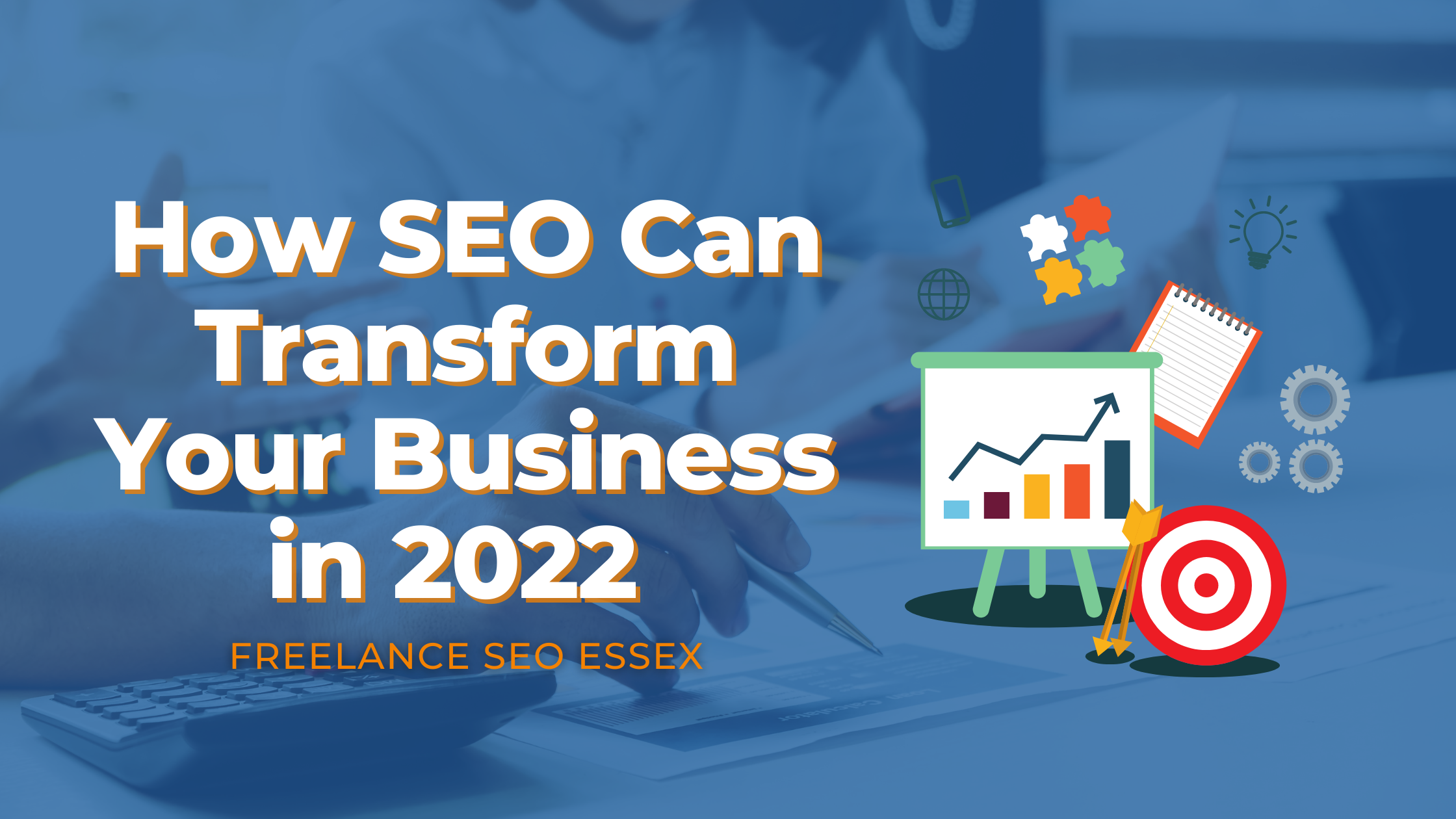 Boost your credibility

 
Concentrating your efforts on SEO is a sure-fire way to boost your credibility. A site that ranks highly in search results is considered to be high-quality and trustworthy by search engines. This, in turn, will boost the credibility of your business. Doing things like adding great content (more on that next) and increasing your site speed will help you to reach the upper echelons of those search results – and stay there. 
Give your content a bigger platform

 
SEO is a really great way of giving your content a big platform. Content marketing and SEO go hand in hand. The more high-quality, relevant content you add to your site, the better your site will rank in search engine results – giving that content a bigger audience. Make sure that your content is optimised for keywords that you want to rank for, and update it regularly. A blog is a great place to start, and is something we can help you with. 
Rank higher in local searches

 
Investing in SEO will also help you to rank higher in local searches. Local searches such as 'computer repair shops near me' are becoming more and more common – especially on mobile devices. There are a number of ways you can use SEO to rank higher on local searches, such as setting up a Google My Business account, requesting reviews from your customers, optimising your site for voice search, and focusing on area-specific keywords in your content. 
Find out what your customer wants

 
Last but not least is the holy grail for any business: finding out exactly what your customers want. Using search query data, SERP analysis, analytics data and AI insights, you will soon be able to understand what the customers you are trying to target are looking for. This will influence further marketing campaigns, the look of your site, and the content that you produce. The result? An online experience that customers will feel is tailored to their needs. 
We're here to help

 
If any of the above seems a little bit daunting, we are here to help. Over the years, we have worked with clients in a really wide range of industries, from start-ups in our local area to businesses with a reach across the UK and beyond. Our experienced consultants are well-versed in the intricacies of the Google algorithm, and will know what you need to do to boost your SEO efforts in the long and short term. We won't tie you into a contract either, and our prices are some of the most competitive in our field. 
Find out more today

 
Want to find out more about how SEO could transform your business? Get in touch with us today, and we will answer any questions that you have before arranging a consultation at a time that suits you. You really couldn't be in safer hands!
Read more: May 2022: Social calendar dates for your diary »