FSE Enjoys Meeting Other Local Businesses at This Year's Best Business Expo
Last Thursday 20th November, co-directors Danny and Danielle headed down to the Marriott Hotel in Waltham Abbey to join dozens of other businesses from Essex and Hertfordshire at the 2014 Best Business Expo.
Organised by Peter Donn, the Best Business Expo is billed locally as a 'sales generation and business motivation event'. Its aim is to provide entrepreneurs with an opportunity to network with other local business owners and pitch their products and services to local providers.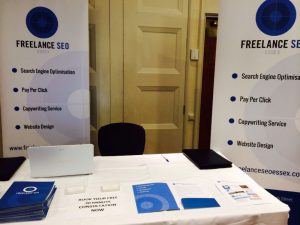 After taking a look at the list of confirmed exhibitors and noting that the event attracts a growing number of attendees every year, FSE was keen to get involved. We were also eager to sit in on the expo's highly informative talks and workshops – this year, visitors were treated to words of wisdom from top blogger Sarah Arrow, award-winning PR guru Sarah Brockwell from sarahBee marketing, and successful entrepreneur Steve Clarke, who gave attendees great ideas on how to grow their businesses sustainably and achieve 'champagne results' on a 'beer budget'.
Overall, the Best Business Expo was an enjoyable and useful experience that allowed us to introduce ourselves to some interesting new contacts and get a lot of inspiration from other exhibitors. Congratulations to Peter for arranging such a successful day!
More information on the Best Business Expo can be found on the organisation's website. If you want to sign up for the next expo, there will be plenty of events taking place in and around Essex and Hertfordshire in 2015, so get in touch with the team to book your pitch or your seat.
Read more: A Quick Introduction to Global Entrepreneurship Week »