Optimising For Midnight Searchers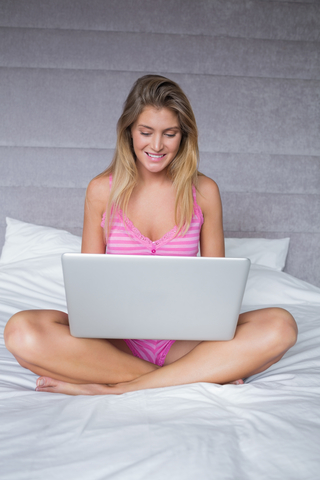 This week, Seth Stephens-Davidowitz, writing for the NY Times Sunday Review, delved into some big data from Google and shared some interesting insights into search trends throughout the day. You can read his full report here: Days of Our Digital Lives. What interested us the most was the after-hours search trends.
If you have ever looked at the hourly reports for your organic search traffic you will notice that every day there are peaks and troughs in referrals from Google. With few exceptions, every website attracts more traffic at certain times throughout the day. Understanding these trends can better help to optimise content and target audiences throughout the day. So, what did Stephens-Davidowitz discover?
Midnight searches
Before midnight, there is a peak in searches for adult dating phrases, such as Tinder and Match, when single men and women start looking for dating opportunities. About an hour after this, the most popular search term is "porn" – many men have given up looking for a woman and make do with some adult entertainment.
A couple of hours later, women start searching for "Literotica" – this search term peaks after 3am. Women are still much more content with a good adult story than a visual stimulation. However, the stories must leave some unsatisfied, because searches for "vibrators" peak at around 4am!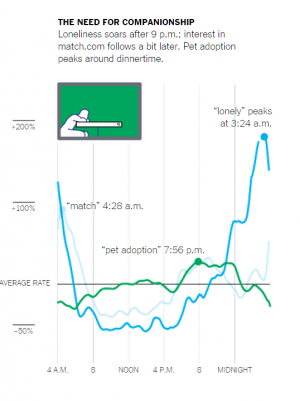 This data may be especially useful for those who are looking to drive engaged visitors to their adult websites – how many sex toy companies are focusing their SEM campaigns in the twilight hours? Midnight also seems to be a logical time to push adverts for escort agencies, catch men off-guard between using Tinder and searching for porn.
By 3.24am, searches for "lonely" start to peak. The rollercoaster ride of Tinder profile searches and porn viewing has worn off, and people are left feeling rejected and alone.
Searches for Meaning
Between 2am and 4am many people start searching for meaning in their lives. Search terms, such as, What is the meaning of consciousness? Does free will exist? Is there life on other planets? all peak during this time.
This time, just before dawn, seems to be a spiritual time for night owls. One theory is that cannabis use is prompting many of these searches – the evidence is there, because searches for "how to roll a joint" peak an hour beforehand.
Early morning searches
As dawn breaks, the most popular search terms are for "weather," "prayer" and "news", which peak at around 5.30am. Many people wake up and immediately start searching Google for the morning news and weather reports, as well as prayer guidance, to help them get through the day.
The big data that led to these insights was gathered from New York searches, however, it is likely that the same patterns will be repeated across America and here in the UK too.
This is a simple example of how big data can be used to optimise SEO and SEM campaigns and carry out more advanced keyword research and improve content strategies.
If your campaigns are failing to hit the right audience, contact Freelance SEO today to learn how we can help you optimise your business to improve both traffic and conversions.
Read more: Congratulations To Chloe For Finishing Her Apprenticeship With Us! »