Spotlight On The Essex Digital Awards: What It Is And Why You Should Get Involved
With the deadline for entries for the Essex Digital Awards fast approaching, we thought we'd get together with the scheme's organisers for their thoughts on why this year's initiative has been met with so much praise and enthusiasm.
The great minds behind the awards
First of all, let's shed some light on how the EDAs came about. Andy Pritchard and Iain Johnson had originally set out to run a brand new business awards scheme. After some research they soon came to realise that there was no award scheme dedicated to raising awareness of what Essex businesses, schools and charities are achieving online.
Andy runs Designsixtyfour, a very successful web and print design business based in Ingatestone. His client base includes some of the world's most successful musicians, major labels and a host of firms from other industries.
Iain runs the Essex-based PR agency Noise PR and is also an award-winning journalist who previously reported for the Essex Chronicle and Brentwood Gazette. His experience also stretches to being a Commercial Director for a market research firm.
With extensive knowledge and experience of the digital marketing world under their belts already, Andy and Iain set about revealing exactly how much Essex has to offer when it comes to online innovations. Despite their far-reaching knowledge they remain modest: "We're keen to stress that we're not claiming to be the authority on digital marketing, we're just trying to highlight the excellent work of others," they said in our recent interview.
Why wouldn't you enter?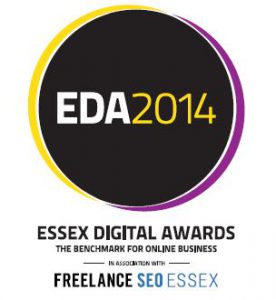 If you are still not sure whether or not your company should enter the awards, ask yourself this: Are you an organisation that is based in Essex? And are you proud of what you have achieved online? If the answer is yes to both of these questions is 'yes', completing the entry form on the website is a no brainer. Why not grab the chance to win an award that you can proudly display to your clients and line yourself up to receive widespread coverage and exposure from the Essex Chronicle to boot?
Andy and Iain have both had a sneak peek at the huge amounts of entries they've received in the run-up to the new deadline on 7th March and it has become clear that Essex is a "cutting-edge county bursting at the seams with serious digital talent".
The two will not be judging entries but have arranged a completely independent panel which is made up of extremely successful digital experts, some of which are from or have worked on behalf of globally recognised organisations such as Sky, Live Nation, Universal Music Group and the BBC.
Aside from winning an award, of course, Iain and Andy offer a little extra advice on what companies can do to improve their online profile.
"Be honest, seek feedback from your clients and peers, and don't be afraid to admit when something could be better," they say. "Make sure you're on top of your company's digital presence, keep things fresh and up-to-date, and seek out some blogs to keep abreast of effective marketing ideas that could boost your business".
Both Andy and Iain believe that some of the biggest challenges facing online companies at the moment is the ability for digital media to change so quickly. This has resulted in companies being forced to look at digital marketing rather than print marketing, and digital marketing is so vast in terms of how you can get your business in front of the right audience.
"It's hugely exciting but we know it can be overwhelming," admits Iain. "The challenge is to identify what works best for you, track the progress of your campaigns, and make sound decisions based on that data."
When it comes to honing in on the digital world's most influential people (and what makes them so great in their field), both Andy and Iain joke about how quickly 'leading' figures can drift in and out of global focus. They believe that the most obvious ambassador for online achievement is Mark Zuckerberg, re-emphasised by his most recent purchase of Whatsapp, whilst Ellen DeGeneres is also proving to be a force to be reckoned with after breaking Obama's record for the most re-tweets. "It's a merry-go-round, digital media has made everything incredibly ephemeral, fame and influence have become very different concepts with the advent of social media," they add.
The online way is Essex!
Entry numbers for the Essex Digital Awards have completely exceeded expectations, so how come the Awards have proven to be so popular to date? Well, there are a number of reasons why hundreds of companies have been quick to jump on board: the quality judging panel, the backing of the mighty Essex Chronicle, the support of Associate Sponsors Freelance SEO Essex, and the fact that it is completely free and easy to enter are all factors that contribute to the integrity of the scheme.
However, neither of the organisers are shocked by the early-stage success of the initiative and believe it's partly because they have launched the scheme in a region that openly welcomes new opportunities. "Many people from Essex have an intrinsic survival instinct, they don't stand still and never have," says Iain. "But they're also immensely proud people and the EDAs embraces that culture."
Where and when will the Awards take place?
The Awards ceremony will be held at newly refurbished venue The Ivory Rooms in Billericay on the 24th April and there are to be a few surprises in-store on the night. All finalists will be contacted in advance and will be able to purchase tickets via www.essexdigitalawards.co.uk in the next few weeks. If there are any tickets remaining, they will be placed on general sale.
If you feel that your company's website or online presence isn't quite up to scratch yet, don't worry – there's always 2015. According to the organisers, next year's awards are going to be "even bigger, even better and celebrating even more of the excellent work being done by the great people of Essex".
Read more: Have Firefox Dug Their Own Grave By Introducing 'Directory Tabs'? »